This website is in the process of being updated, and a new version will appear soon. For information about the Association.s recent publications, please contact sales@acscricket.com. For all other enquiries, please contact secretary@acscricket.com.
Welcome to the website of the Association of Cricket Statisticians and Historians. If you looking for an answer to any question about cricket, seeking clarification about a particular record or feat, or searching out information on a team or a particular player, you have come to the right place, as the members of of the Association have a wealth of knowledge and expertise about the game, its records and the feats of players and teams all over the world.
If you have a query, please send an e-mail to secretary@acscricket.com and the Secretary of the Association will hopefully point you in the right direction.
If you are undertaking family history and seeking information about a relative, or if you are looking for information about a particular match, you will find the CricketArchive site a useful starting point. Many members of the Association have helped to compile this archive, and the information you are seeking, may already be there.
Members of the Association have also been engaged recently in a Project tracing the early history of the game across the world. Their research can be found by clicking on link to 'Early Cricket History Project' on the left-hand navigation bar. This list of matches is still growing, and we would welcome your help if you find any references which are not on this database.
If you are not a member of the Association, please do consider joining. Click on the button in the top left to see what we have to offer. Members can also easily interact online with other like-minded people - all you have to do is simply click on the link to 'Members Area' above and register your e-mail address. It would also be useful if you could add a short profile of yourself and your cricket-related interests. For the user name and password (members only please) send an e-mail to webmaster@acscricket.com.
LATEST PUBLICATIONS .... Autumn 2008

Richard Daft by Neil Jenkinson - Number 7 in the Lives in Cricket Series
The Minor Counties Championship 1902 edited by Tony Webb
Two Stalwart Scottish Cricketers: John Kerr and Jimmy Aitchison by Duncan McLeish
First-class Cricket - A Complete Record 1927 by Jim Ledbetter

Click on the 'Latest Stock List' link on the left-hand navigation to display a pdf file with prices of these and other recent publications.

Postal enquiries about the ACS should be sent to:
Andrew Hignell (Secretary)
Archives Department,
Glamorgan Cricket,
The SWALEC Stadium,
Cardiff, CF11 9XR,
Wales
Telephone enquiries to: +44 (02920) 419383
E-mail enquiries: secretary@acscricket.com
<! put the book graphic here >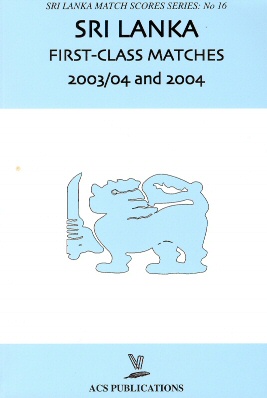 <! end >
Copyright © 2003-2008 Association of Cricket Statisticians & Historians and CricketArchive